You need knowledge and time to create a website. Professional web developers have knowledge. They will create a website for you pretty swiftly but they will take some money for this job. If you possess time, you can do the job yourself and use the money you have saved to promote and optimize your website.
Find below a few methods to create your first website. We'll start with the common goals, describe what a website consists of, review popular engines and website builders, go through technical details, and finish with a list of free services to support your website after it has been created.
Without any preamble
how to create a website for free by using a website builder,
how to create a website for free by using WordPress.
Contents
Website: when you need it and who you can trust
When you need a website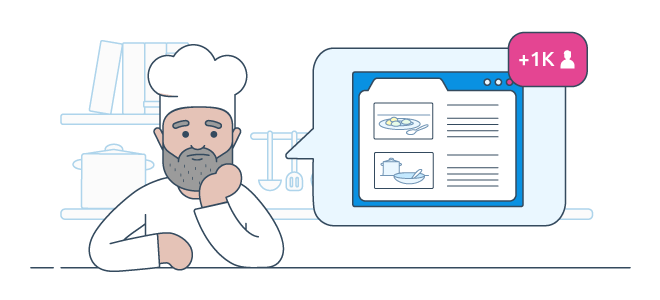 Unless you're a small business owner who is not interested in growing your brand, you need to have a website
About 80,000,000 people surf in the Internet every day. They read the news, follow weather forecasts, watch movies, listen to music, communicate with their friends, pay taxes. They look for dentist's contacts, search for a babysitter, and order food delivery.
If you need clients, you need an online presence. Your online page is one of the ways to present yourself in the web: a painter shows his/her arts, a businessman looks for customers, a non-profit organization raises funds on good things.
A website can serve as a business by itself. A good author can create content and earn money on advertisement.
When you don't need a website
You can use different ways to find clients in the Internet - website is not the only option. You can use social networks, messengers, and other platforms with users and tools to communicate with them.
If the audience is grouped around one social network or a messenger, all you need to do is create a new group there. It's free and allows to find potential clients pretty easily:
a small fitness club – a group in a messenger,
a hand-made shop – an account on Facebook,
a barber or stylist – an account on Instagram.
Just a group in a social network won't work if you want to get traffic from SEO, use ads outside of just one social network, or earn money on your website.
If you want to create a portfolio or a blog, pay attention to some of the services below.
| Portfolio platforms | | Blogger platforms |
| --- | --- | --- |
| | | |
When you'd better not to create a website by yourself
Sometimes, it is really better to pay for a job of a digital studio or a web developer.
If you have an e-shop with more than 1000 positions inside. Navigation, filters, and payment modules are better to be set up by professionals.
If you have an important project where "style" really matters. A web studio will help you with a logo and your style, work with texts and images, let alone create a website itself.
If you have a web app with interactive elements and account area. Such websites are really hard to develop and optimize. A web studio will take care of it, adapt your website to different devices, and make it fast.
Things to know before you start
Everyone understands basics about how websites work: just enter an address to your browser, and it will open a page – pretty easy, right? However, you have to know much more to be able to develop websites.
Why theory is important Digital agencies and freelancers might take advantage of your lack of knowledge. They can charge a lot for a simple task because you don't know it is a simple task. But it might be difficult to charge more from a client who knows some stuff. Read this section to learn how to assess their work and do some job (or all of the job) by yourself.
Standard action plan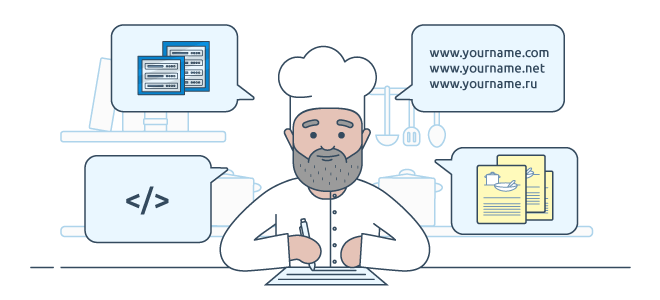 You can create a website free but you have to pay nominal charge every year for domain and hosting
To simplify things: A website is a file with content and code inside. In our case, content is a description of our company and its services, product images and screens, feedback from customers, etc. The content is located all around a web page: description, images, feedback - everything is in its own place.
To make the content look decent on a web page, developers wrap it up in the code (HTML, PHP, etc.). You don't see the code on a website page but the code is there. Websites might be wrapped up with a lot of code. The main page of ispmanager contains 46,000 symbols. The Facebook code has more than 670,000 symbols (equals to 3 books of "War and Peace" by Tolstoy). So you can't live without code.
Files with content and code are located on a computer (server) inside a data center. A server must always be up and running, and it has specific software installed on it so that any web user could get access to it. Normally, people don't buy servers but rent them. This service is called hosting.
You need to know the address of a server to get access to it. Any server has a real IP that looks like 10.0.0.0/8. However, there is also a more "human" address that looks like ispmanager.com. This "human" address of a place where a website is located is called a domain name.
Let us assume that we want to visit the ispmanager website. We need to enter its domain into the address bar, then our web browser will find the real address of a server with the content, send a request to it, take the files and show to us. If we enter something on a website page, the browser will send it to the server. That's all.
Things websites can't live without
Domain name. It's impossible to find your project without it.
Hosting. Your website is out of the Internet if you don't have it.
Code. Browsers cannot show any content without code.
Content. Nobody will understand what you want to say without it.
To pay or not to pay
In order to create a website, you need to prepare your content, wrap it up in the code, upload it to a server, and assign a domain name to the server. Most of the tools can be free, and a lot of things you can do on your own. But sometimes it is really better to pay to somebody else to do the job.
Content – free for sure
You can tell about yourself or your company, make some pictures, prepare service descriptions, and collect clients' reviews on your own and for free. For instance, if you have a car repair shop, you can pretty easily describe what you do, take a couple of pictures, and grab some feedback from your existing clients. If you're a designer, just tell a couple of words about yourself and show your portfolio. You don't have to pay for this.
If the content is crucial e.g. you want to attract clients from SEO for free and interest them with your services, or you have a bevy of goods, then you need to understand that creating content will take time. Have no time really to do it yourself? Then pay. It's not obligatory though.
If you're not a web developer, then you'd unlikely create code from scratch. But you know what? You don't really need to create it from scratch. You can use the ready templates created be somebody. It's like building your own house with bricks and blocks as opposed to using crude clay. It is very easy to use website builders. It is a bit more tricky (but more useful) with a CMS. Developers would deny both of these and use frameworks like Angular or React. We'll tell you more about website builders and CMS a bit later below.
With website builders and CMS, you only have to configure a website template and add content. A website created this way may not be very unique and be quite common. To tune it a bit, you will need to learn how to edit it. If this seems to be too difficult, then it's better to ask help from professional web developers. But – this is also not obligatory.
Every website needs hosting. The bigger your project is, the more space is required. You can organize simple hosting at home with your laptop or PC but we'd not recommend it (but there are some guides in the Internet). Hosting can be free if you use a website builder. But there are caveats here because when your project grows, you will have to pay. Read more in "Website builder or CMS".
If you use templates and CMS, you have to buy hosting. It's pretty easy and pretty cheap, from 2-3$ per month for a few gigabytes of storage. Read more in the section "Buy hosting".
When search systems, users, and partners find a new website, they save its link and add it to their databases. Any change in a domain name will have a negative impact on website traffic. Therefore, you'd better buy a domain from starters and not to change it later. Normally, a domain is rented for a year at least.
You can have a free 3rd level domain like site.sitebuilder.com. Websites built with website builders get such names. Such a domain works but it's more difficult to remember and it doesn't look very trustworthy. Also, such websites cannot be monetized. So we don't recommend using such domains.
What we don't recommend paying for If you need a simple promo website, it can be free. Freelancers may charge from 100$ for CMS installation and adding content to such a website. But you can actually do it yourself and for free. You just need to buy hosting, install a CMS, and add content. Read more about it in "Create a website for free by using CMS". Go to professionals only when you need a pretty big e-shop, a website with a specific design, or a corporate portal.
How to create a website from scratch
Determine your goals
We have considered a few situations when you don't really need a website, or you'd better not create it on your own. If you know for sure that you need one, then it's the best time to define your goals. Why do you need a website?
Depending on your goal, you can decide what website type you can use and what tools to utilize.
Types of websites, considering goals.
Sell – landing page, e-commerce
Present – promo website.
Show – portfolio, blog.
Below you can find a description of a few website builders and CMS for different website types. Choose your tools wisely.
Website builders: what and how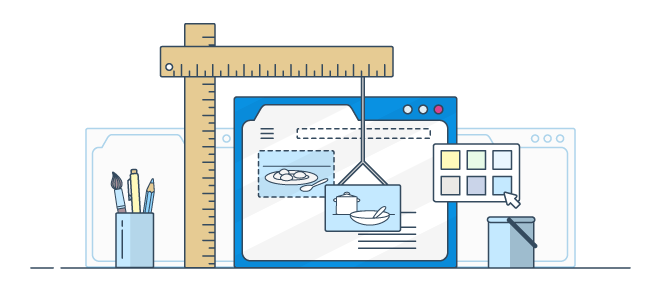 Website builders are all-in-one tools that let users build a site quickly, without needing to know any coding or site design skills
The simplest way to start your own website is to do it in a website builder. This is a website where you can create another website. You don't have to know any programming language, or buy hosting and domain; all you need to know is how to move a mouse. Registered, selected a template, set it up, added content – done. Plain and simple.
Website builders are commercial services but most of them have free plans. However, there are at least two problems with such plans. First: you cannot assign a domain. It means that if you gather some clients and then decide to change your domain, your website will lose traffic because it will become new to SEO engines again. Second: if you decide to move your website to another hosting company or add your own elements to the code, you will have to pay. This is the reason why:
A free plan works great for a portfolio, presentation websites, small company portals, and non-commercial organizations.
A free plan doesn't work for e-commerce, blogs, and mass media with some growth potential.
Read more about the pros and contras of website builders in the section "Website builder or CMS". Below you will find a few popular services with free plans.
Universal
Overview of content management systems (CMS)
Website builder or CMS
Create a website for free by using a CMS
Buy a domain
Buy hosting
Things to remember
More than 35 000 people are already reading us
Save 10% on ispmanager purchase and select your newsletter!
Choose from Ispmanager news, beginner web dev, advanced web dev, or suggest your option. Subscribe for exclusive discounts and knowledge!
Thank you for your interest in ispmanager newsletter!
An email has been sent to your email address: asking you to verify your subscription.
Right after confirming the mailing address, we will send you the promised discount.
*If you did not receive the email, please check that you have entered your mailing address correctly and try filling out the form again.