Timeweb is one of the leading hosting providers in CIS region. About 10% of all CIS net is hosted on its servers. Recently the company has expanded the range of tariffs for VDS. The ispmanager website management panel helps to sell more of these services. Sergei Plekhanov, manager of client service development, has explained the details.
Ispmanager makes it easier to support customers on a VDS
Among our clients, there are many companies and individuals running their own business. In the case where the project needs individual and unique requirements for the specific business, we offer the client a more flexible solution, for example, the transition to the VDS. But to manage a virtual server, you need a sufficient level of technical knowledge.
Previously, users who were not ready to work on their own in the console, constantly contacted the technical support and we solved their problems. At the same time, the VDS team was working on automating processes and looking for web interfaces that would help with this. As a result of market analysis and communication with users, the choice was made in favor of ispmanager.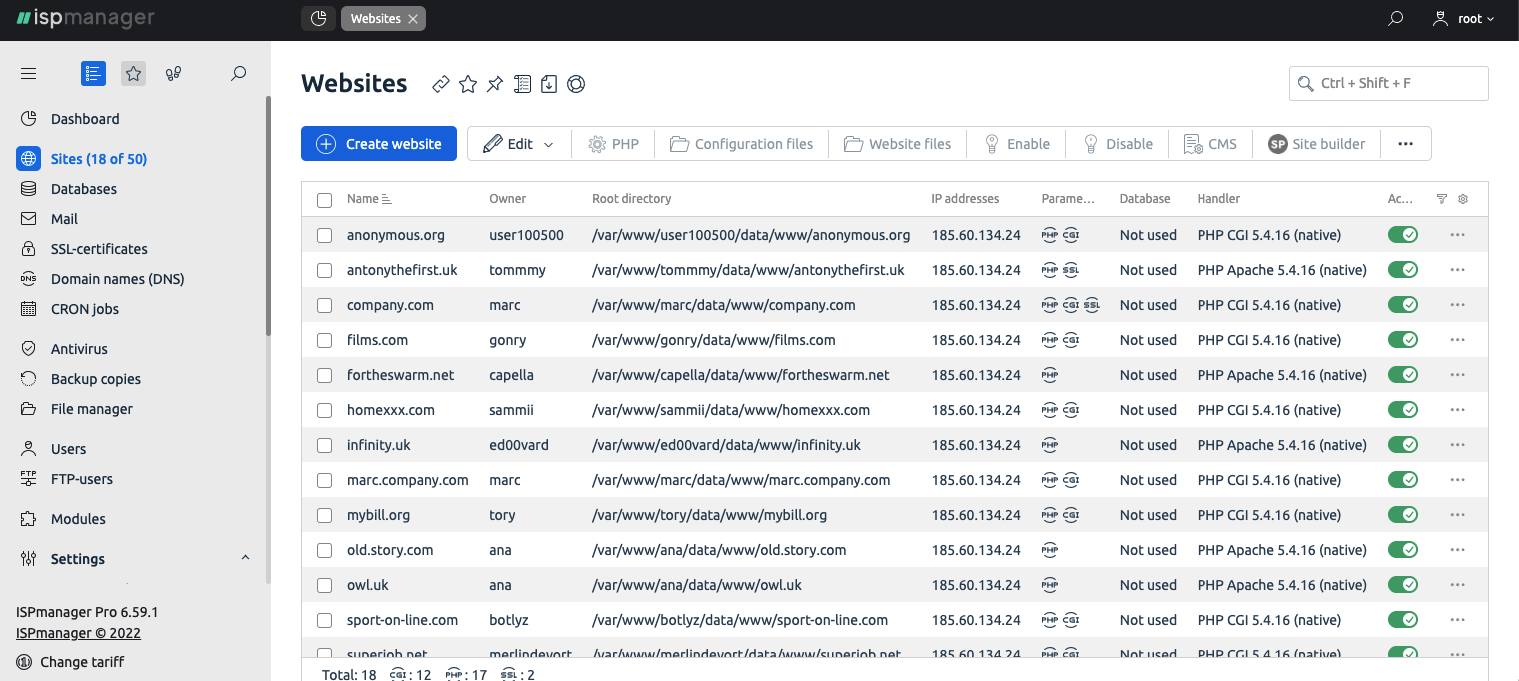 ispmanager Interface: website management
Simple interface
ispmanager has an intuitive interface. When a user moves to a VDS or dedicated server, there are no more obstacles in front of him. In this way, we give the opportunity to use VDS to absolutely every customer.
ispmanager solves the main problem - lack of knowledge and experience in administration
Extensive functionality
ispmanager helps the client to easily resolve any issue: from website hosting, installation of SSL certificate, database management to server support and administration. When we offer ispmanager, we provide our customers with a tool that allows them to independently solve most of their problems. This saves time and resources, not only for the provider or webmasters, but also for the customer.
What features do Timeweb customers like most about ispmanager
Configuring domains
Database management
File manager
User management and FTP access
SSL certificates
Task scheduler
Server settings, web-scripts, etc.
Server monitoring
Working with backups
Setting up PHP
Integration modules, such as ImunifyAV antivirus
ispmanager remains one of the most popular panels among our users because it is easy to use and provides all the features required for simplified server administration. About 10% of our customers use ispmanager on VDS, and this number is increasing.
DNS configuration is a popular feature of ispmanager. Resource records can be managed directly from the panel
Try ispmanager to provide customers with shared hosting and VDS/VPS
More than 35 000 people are already reading us
Save 10% on ispmanager purchase and select your newsletter!
Choose from Ispmanager news, beginner web dev, advanced web dev, or suggest your option. Subscribe for exclusive discounts and knowledge!
Thank you for your interest in ispmanager newsletter!
An email has been sent to your email address: asking you to verify your subscription.
Right after confirming the mailing address, we will send you the promised discount.
*If you did not receive the email, please check that you have entered your mailing address correctly and try filling out the form again.