Today we shall describe most recent updates that are available in the sixth version of ispmanager. Let us introduce the best crop panel updates released in 2022. Share on Discord which of these new features you enjoy using in ispmanager. Your feedback and reviews are read and taken into consideration by our developers.
Contents
Dark theme
Many users work with ispmanager in dim light. To avoid hurting your eyes, we added a dark theme to the panel. You can turn it on in the top right corner. When choosing a system theme, ispmanager's design will change in line with your OS settings.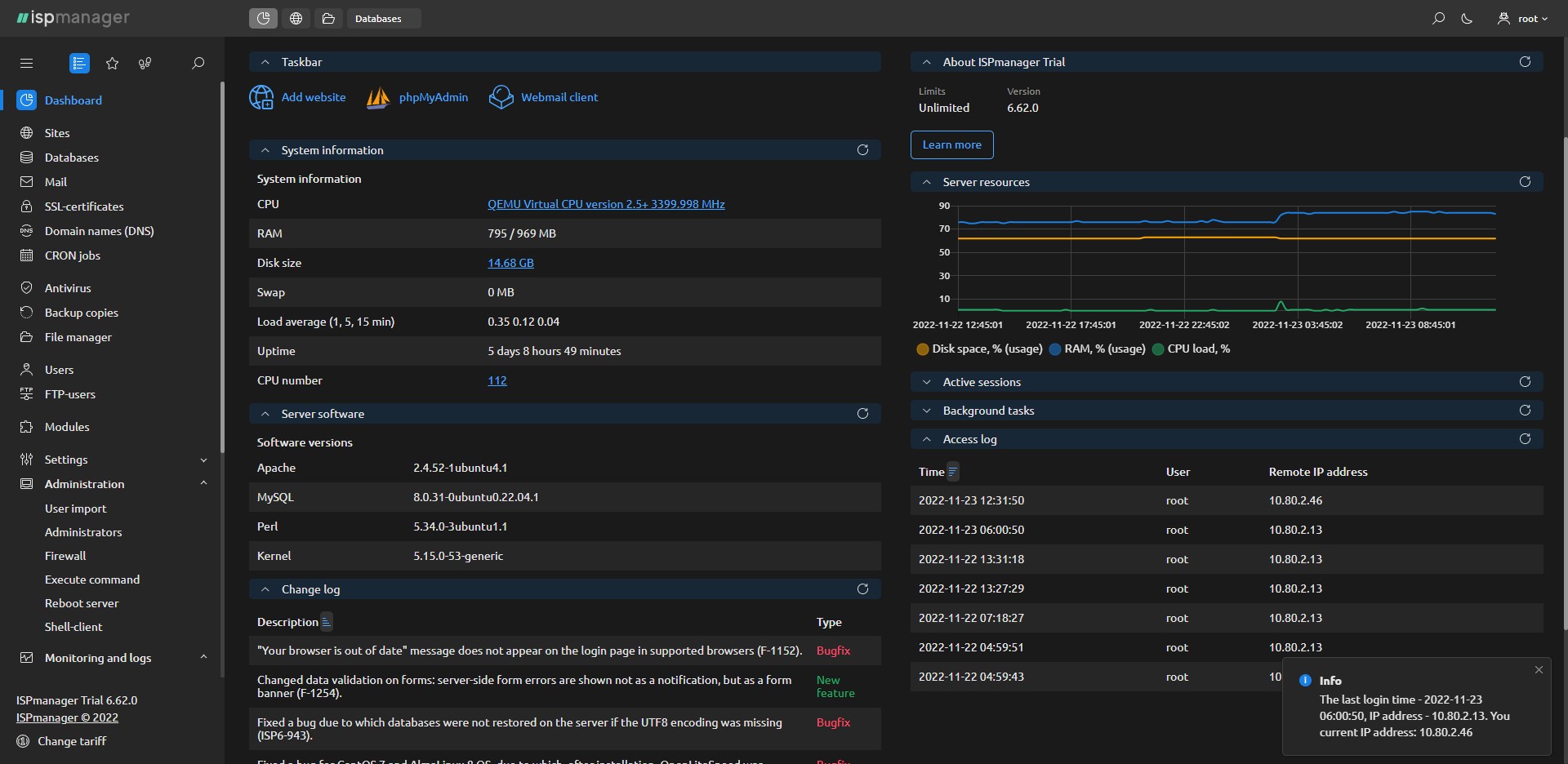 Dark themes in ispmanager
Dr.Web antivirus module
Dr.Web scans your web server, detects and neutralizes viruses, coping with both known and newly identified threats. You can run the scan manually or as a scheduled task. Ispmanager reports on scan results.
Until February 28, you can enable the Dr.Web module for a month for free — read the news on how to do it. So far, Dr. Web is available in lite, pro, and host versions. In the Q1 2023, we will integrate it in the business variety.
Notifications on Telegram
Now ispmanager notifications can be received not only by email, but also on Telegram. Just create a bot, and then register a token in the panel settings, and you will be informed on events in your personal chat or community upon all triggers provided by the panel.
PHP Composer
A useful habit of using Composer will save developer's nerves and time. The manager controls dependencies and helps you easily update PHP packages.
Changing PHP settings for each website in business version
Earlier, it was possible to specify PHP versions and modes separately for each website only for ispmanager lite, host, and pro versions. This year we have added this option for the business variety as well. If you have tried this feature, feel free to share your opinion on Discord: how do you like it?
Ubuntu 22.04 support
We continuously integrate support for the latest OS versions and we recommend you to follow their updates. Sooner or later, even the best and most beloved distribution winds up with EOL. While working with expired software proves as safe as interacting with zombies. So do not forget to timely migrate to the latest software, for instance, to Ubuntu 22.
Open LiteSpeed ​​Web Server
Now ispmanager supports Open LiteSpeed, an ultrafast web server on steroids. Its strength lies in its event-driven architecture, high security, and numerous plug-ins that streamline its performance.
The result of our OLS testing: the number of processed requests per second for VDS 4 CPU, 4 GB RAM, 16 GB HDD
PPageSpeed ​​for Apache and nginx
PageSpeed ​​tool optimizes JS, HTML and CSS, compresses images, increases server throughput capability. It improves the page experience ranking score in Google and boosts a website up in search queries. PageSpeed ​​for Apache and nginx web servers is now one click away in ispmanager.
Node.js
It is quite handy to use Node.js in ispmanager. The panel itself will install the preferred version on your server, the only task you need to do is to upload your projects. Node.js executes JavaScript at the server side without affecting a browser. Event-driven model underlies this behaviour: the execution of a script proceeds even if the previous operation is not completed. This substantially speeds up your server.
Node.js handler settings on website in ispmanager
Percona Server for MySQL
Percona Server is a speedy SQL-based DBMS. Perfect for handling extensive databases, excellent scalability, high performance. It comes in handy that you are able to install your own DBMS version for each website in ispmanager. For instance, you can opt for Percona Server for one project and mySQL for another. If you run various CMS with their own DBMS requirements, it's very convenient.
Backup revision and update
In April, we quadrupled the speed of making backups by modifying the attached libraries. And we won't stop there: next year we are going to keep on working on backups, taking into consideration your requests.
How to try all these features in ispmanager
How to try all these features in ispmanager
More than 35 000 people are already reading us
Save 10% on ispmanager purchase and select your newsletter!
Choose from Ispmanager news, beginner web dev, advanced web dev, or suggest your option. Subscribe for exclusive discounts and knowledge!
Thank you for your interest in ispmanager newsletter!
An email has been sent to your email address: asking you to verify your subscription.
Right after confirming the mailing address, we will send you the promised discount.
*If you did not receive the email, please check that you have entered your mailing address correctly and try filling out the form again.